The local history society for the Leyton & Leytonstone area of east London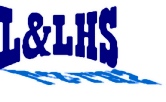 Our Society's intended speaker for its May 2020 meeting was Claire Weiss. Because of the Covid-19 virus Claire gave her talk as a 'virtual meeting' with the title 'Lea Bridge: from Black Marsh to Gleaming Towers'. You can see a recording on YouTube:
https://www.youtube.com/watch?v=bV8etUBqijQ&t=1961s It is the most recent report by Claire on her continuing research.
The 75th anniversary of 'VE Day'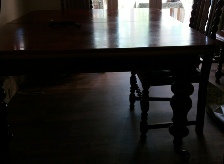 Our Society's Secretary Maureen Measure recalls: "This is the table around which I danced aged nearly 4 on VE Day. We were in Devon at the time.
When we had lived near London we went under the table when the sirens went off. My family lived in several places but the table went with us everywhere.
Notice that the table has a thin gap in the middle. Originally there were extra leaves in the table, 2 of 9 inches and 1 of 18 inches. The table could be opened using the handle (photograph below). When my father opened the table a hidden area appeared which is where we stored the silver during WW2 and subsequently. It was moved here [Leytonstone] after my mum died in 1996. My brother opened it before it was moved here and my cousin Siri was very excited and ran to her mother Unni when she saw the silver. The leaves of the table warped many years ago.

Other memories – When the victory over Japan happened I wanted to dance around the table again, but my mother said no as the H bombs had been dropped on Hiroshima and Nagasaki with massive loss of life.
Another strange memory of when we lived in Devon – Before VE Day I saw a man come down from the sky in a field. I told my parents and I was interviewed by a large man. I remember he asked me if I saw an aeroplane and at first I said no because aeroplanes were huge, noisy and scary growly things. This was a bi-plane. I remember it now. I think that they were looking for a German spy.
Cousin Simeon was born just before the end of WW2 and Uncle Bruce, Aunt Diana's kid brother, whom I can't remember meeting, was killed in Italy, just after Simeon's christening, otherwise Simeon would have been called Bruce. I do remember the grief of my family. The next cousin was called Bruce.
When we went under the table in one of the places before Devon I remember being told that the bombers overhead were 'ours' but I was still terrified.
The first time I went to a firework display after WW2 I was terrified by the bangers and clutched my mum's skirts.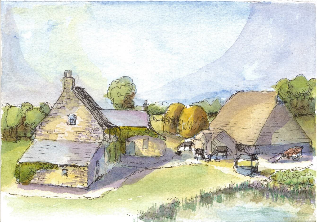 The illustration above, of how Lea Bridge Farm might have appeared, was created by Lindsay Topping and she holds copyright to it.